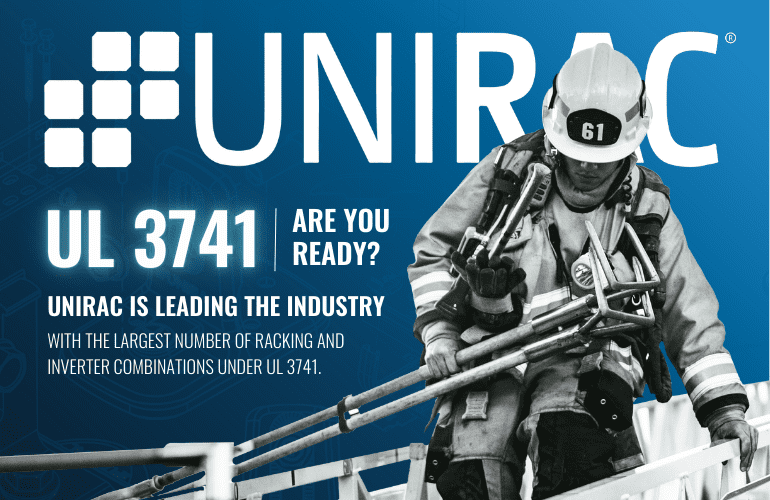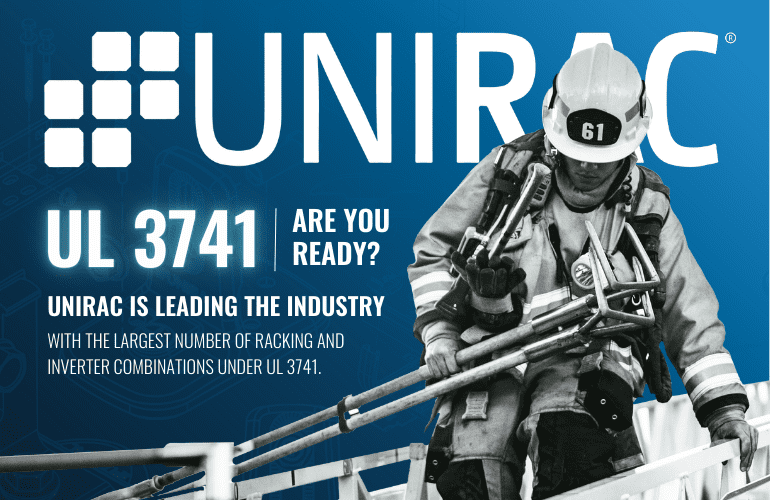 Be rapid shutdown compliant with or without MLPEs. Unirac has the solution that fits your needs.
Unirac has recently achieved UL 3741 compliance for its entire portfolio of racking systems. This is a major achievement, as Unirac now offers the largest number of racking (7 systems) and inverter (38 models) combinations that are UL 3741 compliant in the industry. This means that solar installers can have confidence in using Unirac's racking systems for their projects, knowing that they are safe, reliable, and meet industry standards. Download the Unirac 3741 Application Guide.
Unirac has been at the forefront of innovation for over 25 years, and they go beyond basic requirements as dictated by code. The Unirac Product Development team is constantly seeking ways to improve the efficiency of projects, maintain safety standards, improve ROI, and provide the best value to their partners.
UL 3741 compliance is an important step forward in solar safety, as it provides a new level of PV hazard control that meets NEC rapid shutdown requirements. The NEC requires rapid shutdown of solar systems in case of an emergency or maintenance situation, to prevent electrical shock or fire hazards. Previously, the only way to meet this requirement was by using module-level power electronics (MLPE), which can be costly and complex to install.
"UL 3741 is a critical safety standard that specifically addresses Photovoltaic (PV) hazard control. In alignment with the National Electrical Code, it sets forth rigorous requirements for the design, construction, and performance of PV mounting systems. This helps ensure a high level of safety and reliability for both installers and system owners. As a Product Manager, I can attest to the impact of adhering to UL 3741, as it ultimately enhances the overall quality and dependability of solar installations." 
– Tristen Foley, Flat Roof Product Manager
To comply with UL 3741, solar systems must meet several requirements. First, the racking system and inverter models must be certified and listed together, ensuring that the system is designed to work safely and efficiently. Second, the PV array layout must be designed according to one of the four use cases outlined in Unirac's UL 3741 Application Guide, which provides guidance on how to design a safe and effective solar system that meets NEC requirements including inverter placement. Finally, wires must be handled according to the racking-specific installation manual, ensuring that the system is installed correctly and safely.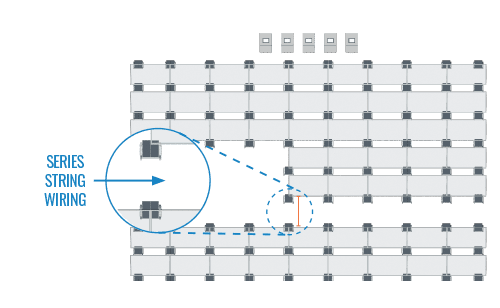 Unirac's UL 3741-compliant racking systems offer several benefits to solar installers and project owners. First, they provide a simplified and cost-effective solution for meeting NEC rapid shutdown requirements, without the need for complex and expensive MLPEs. Second, they offer flexibility and compatibility with a wide range of inverter manufacturers, allowing installers to choose the best option for their specific project needs. Finally, they are designed to meet the highest safety standards, ensuring that solar installations are safe, reliable, and compliant with industry regulations.
"As the largest provider of UL 3741-compliant racking systems in the industry, Unirac continues to lead the way. Solar installers can trust Unirac's racking systems to meet industry standards and deliver safe and dependable performance. With a wide range of racking and inverter combinations, Unirac offers a simplified and cost-effective solution for meeting NEC rapid shutdown requirements, making solar installations more accessible and affordable for all." – Ted Bleeker, Director of Business Development.